Rowdy Riders
and Trucks
---
Cars even RC cars are not enough to keep a hobbyist of RC toys happy and often will you find in a collection a Rowdy Rider and monster truck or ten as well. Two of the ultimate new on the market RC's available follows.
---
---
Model number ZX-30807G-AB
This is an extraordinary Rowdy Rider 2.4 GHz with a 1:10 RTR Electric RC. It might be small but it is powerful and mighty with off-road tires and body that matches. No other truck can come close as you will find that it could take on even the roughest and toughest course with its full suspension and full bumpers too. If you are worried about radio interference there is no need either as it comes with a 2.4Gz transmitter. For once you do not need to buy batteries either and all inclusive and race ready.
Specs:
Batteries
Run ready
1:10 scale
Rear and front bumpers
Off road tires
Full function control
6.4 NiCd rechargeable battery
Height is six inches
Width is seven inches
Length is 15 inches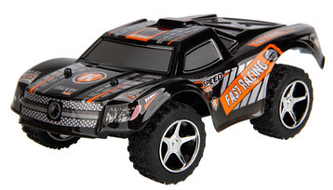 ---
---
Model: VOLCANOEPPRO
Every racer needs a Volcano EPX Pro RTR RC truck in their collection as it is certainly a thrilling and electrifying ride with four wheel drive. In this line it certainly stands out with its reverse and forward transmission, electric brushless 540 motor, twin channel 2.4GHz radio, high torque servo and four wheel drive as well. RC enthusiasts will love the astonishing design and detail that went into the body with aluminum body, huge soft compound off road tires, oil filled shocks and aggressive body. Part of the Redcat collection this Racing Volcano EPX is magnificent to own and ride absolutely anywhere.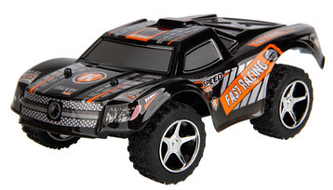 Specs:
Electric powered
Oil filled shocks
Plastic chassis type
Four wheel drive system
Reverse and forward transmission
540 Novatech brushless motor
1:10 scale wheelbase of 11 inches
Height off 7.5 inches
Width off 12.5 inches
length off 16 inches